We are excited to announce that our book, Tails from Beyond the Paw Print, is now available for purchase! Our founder, Dr. Micky Golden Moore, has long dreamed of writing a book that shared selected stories from past and present BTPP attendees. She envisioned that these stories would explore the love, loss, and lessons learned through the lives shared with adored animal companions. These stories will make you laugh and make you cry, but most of all you will learn that you're not alone. Through this book you will discover that similar to you, there are others who share both the depth of love and the pain of the loss.  Even more important, these stories will bring hope, yes, hope that healing is possible and that our grief can be transformed. We will learn that it is possible to make meaning from our losses, and rediscover life's possibilities.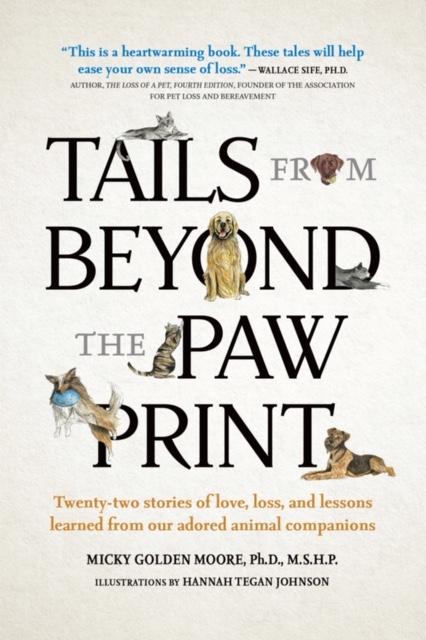 Pre Order your copy signed by Dr. Micky Golden Moore today! Order fulfillment will begin on June 1st, 2020
List price $16.95 (plus $1.02 tax and $3.98 S/H $21.95 total)
(Paypal and Credit Cards are accepted)

Order the eReader or hardcopy from Amazon here (Note: Orders from Amazon cannot be signed)
Read what people are saying about Tails From Beyond The Paw Print...
Tails from Beyond the Paw Print will make you smile, laugh, and cry all at once but even more importantly, it will help you realize you are not alone. This book is an excellent reminder to us all how important it is to talk about our grief, remember our beloved pets, and honor their memories in whatever way we can."
— Corey Gut, DVM, Veterinarian;
Author, Being Brave for Bailey and Staying Strong for Smokey
"This is a heartwarming book. The author is one of the most caring pet lovers we have ever known. The individual life stories on these pages are a testament to all who have lost a beloved pet. It will be hard for any reader to keep from weeping when being reminded of similar losses. These tales of beloved pets will help ease your own sense of loss. So many bereaved people are afraid of 'letting go'. They think it is letting go of the love and memories. But it really is the releasing of only the sharp edge of the pain, so we can go on with our lives. As this wonderful book shows, our beloved pets are a permanent part of us, and they stay forever in our hearts, enriching and blessing us. We at the Association for Pet Loss and Bereavement recommend it for your permanent library."
— Wallace Sife, Ph.D., Author, The Loss of Pet; Founder APLB
This is an incredible book that every pet owner and animal advocate should read. The stories told are raw and full of emotion. Thank you to Dr. Micky Golden Moore for founding Beyond the Paw Print and for turning her dream into a reality – sharing this selection of stories by past and present group members into a book that every animal lover can relate to."
— Matthew Pepper, President and CEO, Michigan Humane Society
Through her work with hundreds of bereaved pet owners, Dr. Golden Moore lovingly draws back the curtain to reveal the phenomenal bond between humans and their companions, how we can make meaning of our losses, and discover that we can transform our grief. I know of no other person more gifted and qualified to help us understand that relationship."
— David J. Whitten DVM. Hilldale Veterinary Hospital, Southfield, MI
"Between these covers are love stories. And, as in all true love stories, the tears will come – and the laughter catches you completely off-guard. Like The Velveteen Rabbit, something happens inside us when we find the things that are real. There is 'real' here. This book is for anyone who has deeply loved an animal companion and mourned their loss. You will find kindred spirits here, friends who have walked where you are walking, and who will help you find a pathway to heal."
— Beverly M. Beltramo, D.Min, BCC, Director, Spiritual Care, Mission Integration, Ascension Hospital System, Michigan Market
Tails from Beyond the Paw Print is a necessity for every pet owner. The stories in this book provide reassurance, comfort, and hope as we navigate our way through pain, loss, and grief."
Mike Palmer, Owner, Premier Pet Supply
The Tails Book Team