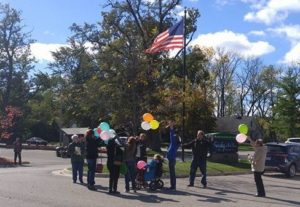 Beyond the Paw Print Support Group: Transforming the Pet Loss Process
Are you being faced with unexpected end-of-life decisions about your animal companion?  Perhaps you find yourself distraught and unresolved over the loss of your animal companion.  The depth of your grief takes your breath away and you may feel inconsolable.  Well meaning friends, family or colleagues may not understand these feelings and just want you to feel better. So, you grieve in silence and isolation. However, you are not alone. With the help of a new pet loss support group, healing and reconciliation are possible. You can transform your grief. Take the first step: telephone or email now to reserve your space.  Together we will embark on a journey toward healing.
When:  The Second Monday of Every Month
2019 Meeting Dates:
January 14,  February 11,  March 11,  April 8,  May 13,  June 10,  July 8,  August 12,
September NO MEETING,  October 14,  November 11,  December 9
Time: 7pm – 9pm.  New attendees please arrive early (6:30-ish) to review the books, hand-outs & brochures on the Beyond the Paw Print Resource Tables.
Where: Orchard United Methodist Church
30450 Farmington Road, Farmington Hills, MI   48334
This group is NOT affiliated with any religious institutions.
Bring:  A photo or other memento of your animal companion to share with the group.
RSVP:  Please email or telephone to reserve your space.  Advance reservations are required to
ensure adequate space. Last minute reservations will be accepted too!
Email:  mgmoore@beyondthepawprint.com   or Phone: 248.701.2345
Email notification will be provided if there are any unforeseen circumstances that may lead to a cancellation of our meeting. Please include your phone number in your rsvp if you would like to be telephoned instead of emailed in case of this unlikely occurrence.
Fee:  Free of charge. Donations will be gratefully accepted.
PLEASE NOTE: Beyond the Paw Print is specifically dedicated to supporting those grieving the loss or anticipated loss of their companion animals. However, Beyond the Paw Print is NOT group therapy for other personal issues. If further assistance is desired, recommendations for therapists are available on request. To determine if this support group is the appropriate venue for you, please do not hesitate to email or telephone the facilitator via the contact information provided.
Facilitator:   Micky Golden Moore, Ph.D., M.S.H.P. Grief Support Facilitator and Nondenominational Hospital Chaplain.
For further information, please call Micky @ 248-701-2345
Testimonials
It's been three years since Shamrock, our Irish Wolfhound, died of cancer and I can still recall the pain I felt after his death. It was sudden, and I could have used a support group like the one Micky Golden Moore is starting March 9, at Orchard United Methodist Church in Farmington Hills"
Linda Chomin, reporter Observer Eccentric, March 1, 2009
Grieving pet owners often experience difficulty identifying a forum for griefs expression. Beyond the Paw Printwas created in response to this unspoken grief, providing just that forum for individuals who have lost a beloved pet. Here they will find support, acceptance, information and valuable resources to assist in the process of healing. This is a long overdue effort in our society as we begin to mature in our understanding that loss of an animal companion needs to be acknowledged as real. Validation of this very special bond is growing because of the efforts of those behind the scenes at Beyond the Paw Print. Kudos to its creators!
Kelly Rhoades, Ph.D.,
Chair and Professor
Hospice and Palliative Studies
Madonna University
Livonia, Michigan
As a veterinary care giver, my practice has been blessed by enjoying Dr. Golden Moore as a pet owning client, and teacher of all things having to do with the significance of pets in our lives. Her personal relationship with the animals in her life is exemplary and inspirational. My entire veterinary team has benefited from Dr. Golden Moore's insight of the bond between pets and people, and helping us to learn how to help owners deal with the loss of their companion. We are a better hospital as a result of our relationship with Dr. Golden Moore.
Dr. DJ Whitten
Hilldale Veterinary Hospital
Southfield, Michigan
I lost the love of my life, Cervantes, in November 2009.  I thought my world had come to an end and didn't know how to move on without seeing his wonderful face for the rest of my life.  Although my family members said kind words and were emotionally there for me, I didn't feel as though I could open up fully and express just how this cat affected my life.  I decided to look online for a pet loss support group and came upon Beyond the Paw Print.  Micky Moore who heads up the group immediately understood how emotionally devastated I was and invited me to meet with her and the other attendees.  I immediately felt that I was with others who felt the same way as I did; my cat wasn't just a pet, he was my baby, my friend, my companion, my soulmate and like alot of ways, my child.  These were other people who I didn't feel embarrassed around and felt completely comfortable when I cried my heart out.  There were so many things I could say in the group that I could never say around my best of friends or my family; maybe they might think I was losing it or just wanted me to move on.  I promise you that whatever you're feeling and not saying out loud, you can say here and no one will think you're crazy, they're empathic and supportive.  I have made really good friends and we take comfort that we are there for each other.
Laura Quinn
Royal Oak, MI
I wanted to thank you from the bottom of my heart for helping me through the darkest time of my life. Jake was my life. My best friend. My companion. My joy. He always greeted me with a waggy tail and made even a tough day at work sooooo much better when I got home. He comforted me when I was sad and gave the best kisses in the world. Loosing him left me empty, lonely, sad and with a heart ache that I can't even begin to put into words. My life was suddenly empty. Going home, one of my favorite things to do, I suddenly dreaded. The house was so empty. So quite. My daily routine I had come to love so much was drastically changed. I didn't know where to turn. Family and friends supported me but didn't understand the depth of the loss I was experiencing. While seaching on line for support groups, I came across Beyond the Paw Print. This beautiful, encouraging, open, support group gave me courage to move forward, when I was ready, one step at a time. You also helped me gain strength to express my feelings with no judgement or criticisim. The love and support you gave me each month helped my heart to heal, and helped me to open it up to love again. Knowing there are others out there that are going thru the same loss and feelings as I was, helped me validate the feelings I had. Thank you for your love, encouragement, beautiful spirit and friendship. I am forever thankful that my angel in heaven brought you and Beyond the Paw Print into my life. God Bless you for reaching out and helping all of us who have experienced the pain of loosing a precious furbaby.
In memory of my best friend Jake,
Sue Guthrie
I found Micky at a time when I was at such a low point in my life, I thought I'd never be the same.  I had Bugsey for 7 years when an incident occurred and a court deemed him "vicious" and as a result, he had to be "put down."  As time wore on, I just sank deeper and deeper into a black hole of depression. I couldn't say his name, look at his pictures, I wouldn't even go out of my house except for work.  Just when I thought it was time to seek help for myself, an article appeared in the Farmington Observer about this lady who was having a meeting about grief support if you've lost a pet.  After a lengthy conversation with this wonderful woman, I joined her group that week.
I cannot tell you how Micky and this group have made a difference in my life. To be allowed to feel and express real and true feelings and emotions to those who can truly understand; is life changing. I began to feel a burden lifting off my heart with every meeting. I can now talk freely about my love, smile and laugh at his pictures, reminisce about the crazy things he did, and revisit our times in my heart, all because Micky took the time to listen without judging, talk without preaching, and guide without pushing.  She was a beacon in my darkest hour, and I mean this with all my heart, THAT IS SOMETHING ONLY A TRUE PET LOSER COULD UNDERSTAND!!
In the beginning, I would panic at the thought of missing a meeting. These days, I go to support the efforts of a great woman who helped me to find my strength and the courage to love my dog exactly the same in death as in life no matter what anyone else says or thinks! I could not be the person I am today without the help of Micky and Beyond the Paw Print.
Mikki Stein
Southfield, MI